We are so excited to share the cover reveal for Speeding Hearts by Claire Wilder,
the next book in the Blue Collar Romance Series.
Keep reading for more details about this sexy, friends to lovers romance.
Title: Speeding Hearts
Author: Claire Wilder
Release Date: 10/15/2021
Genres: Contemporary Romance
Trope: Friends to Lovers Romance, Blue Collar Romance, Small-Town Romance, New Adult Romance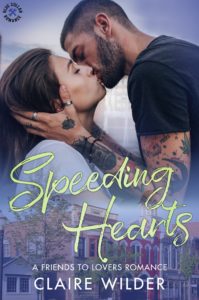 STELLA
Stella Archer has never been afraid of a challenge. She was the first woman mechanic in her hometown. She runs her own garage. And when her best friend and fellow mechanic Dean announces he's moving back to his hometown, instead of being devastated, she jumps at the chance to work part-time at his uncle's dirt track—and finally fulfill her dream of racing cars. But with plenty of time to train with her best friend, for the first time in my life, Stella's scared. Scared that racing isn't really what she wants. Scared that Dean is.
DEAN
Dean Hughes knows he can handle moving back to his hometown to care for his sick—and surly—father. He can even deal with returning to the scene of all his past mistakes. The only thing he can't take is the idea of losing his best friend Stella. Now that she's here in Oak Bend, she's going to see what a screw-up he really is. Worse, he might see the truth he's been hiding from himself: he wants more from Stella than just friendship. And when Stella finds out? There'll be no putting the brakes on what comes next.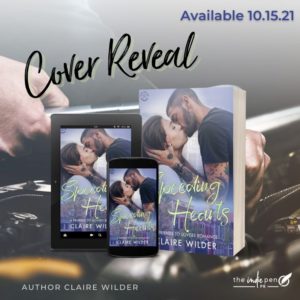 About Claire Wilder
I write steamy lakeside romance novels (and the occasional sweet & sexy short story). When I'm not writing I'm either reading, taking long walks by the ocean (which I consider a giant lake!), or frolicking in the trees with my husband and three kids.
Follow:
Facebook
|
Instagram
|
Pinterest
|
Goodreads
|
BookBub
|
Amazon
|
Website
|
Newsletter
|
Reader Group
|
Linktr.e
e
|
About The Blue Collar Romance Series

Escape to Oak Bend where blue-collar hotties work hard and love even harder.
From broody carpenters to sexy electricians, these eight standalones are packed with small town feels, heat, and heartwarming happily ever afters.
Enjoy your favorite tropes written by an amazing group of authors: Jaymee Jacobs, Alexa Rivers, Evelyn Sola, Kate Carley, Tracy Broemmer, Mila Nicks, Claire Wilder, and Moni Boyce.
Fall head over heels for swoon-worthy book boyfriends who aren't afraid of a little hard work for that happily ever after.